Product Description
Texas Rangers Shirt Men Women Double Sided T-shirt Texas Rangers Hoodie Trendy Unisex Sweater Reaper Baseball Shirts
Gallery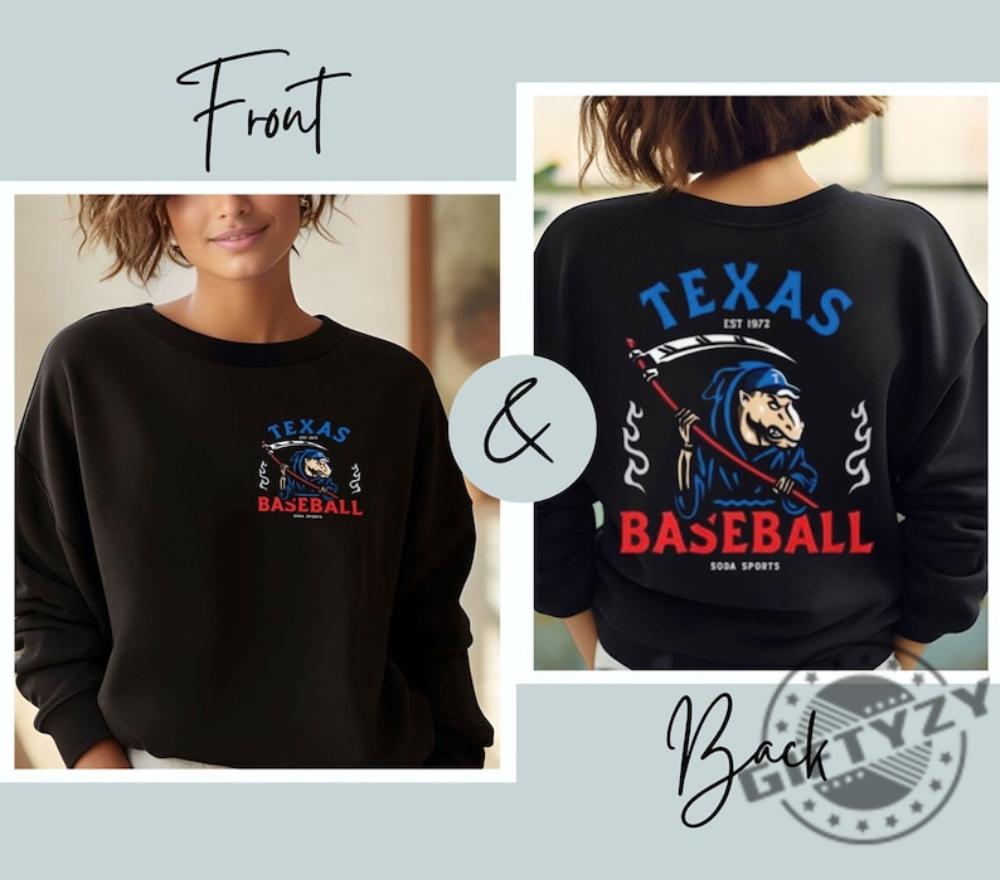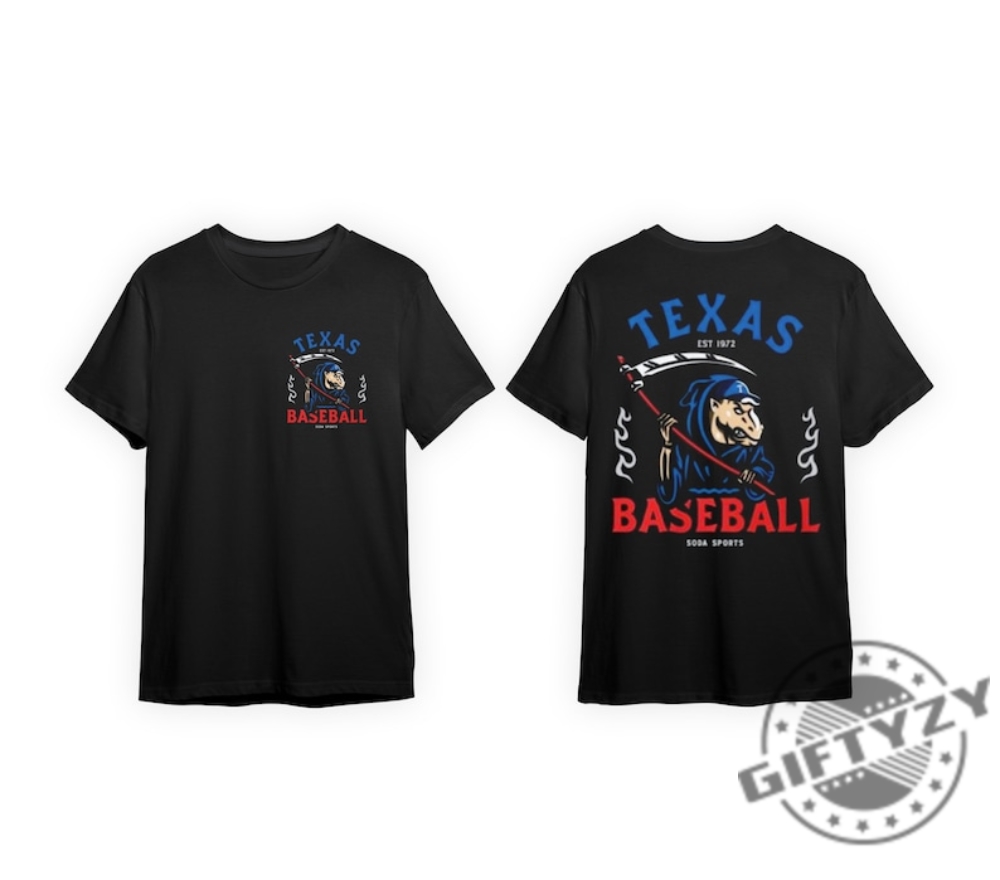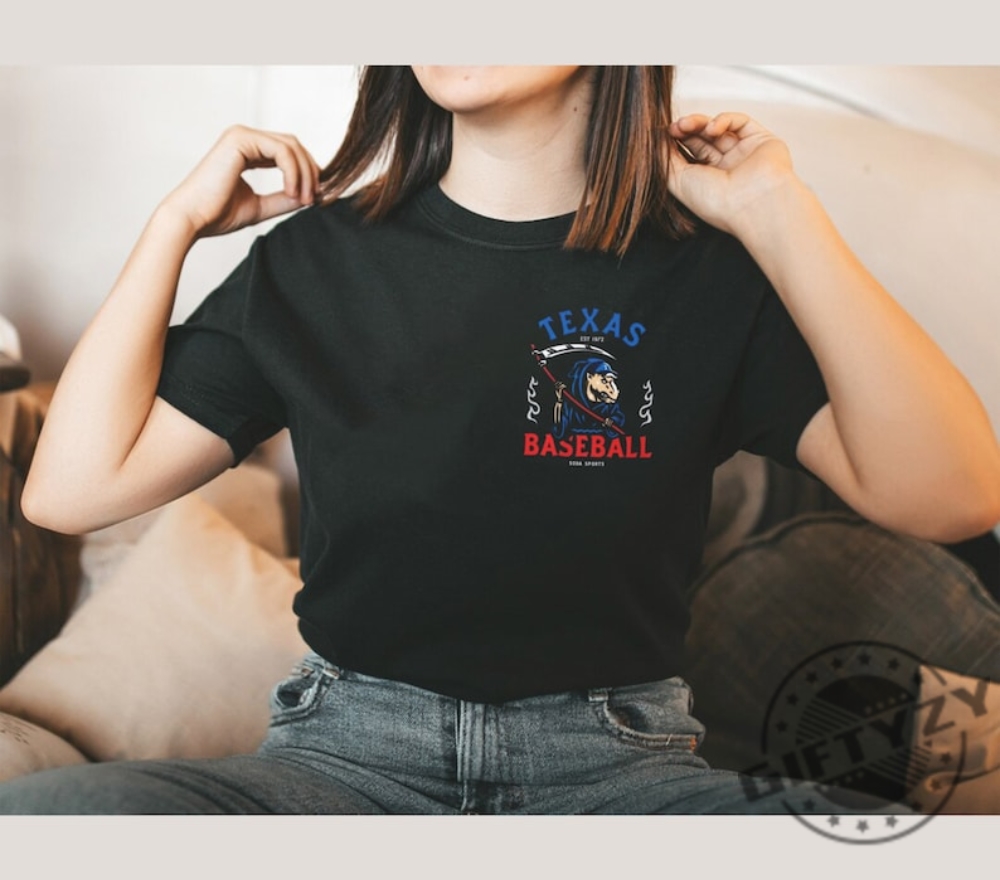 Texas Rangers Shirt Men Women Double Sided T-shirt Texas Rangers Hoodie Trendy Unisex Sweater Reaper Baseball Shirts
Introduction
Looking for the perfect Texas Rangers apparel to show off your team pride? Look no further than Giftyzy, your one-stop shop for all things Texas Rangers! Our collection features a wide range of options, including the Texas Rangers Shirt Men Women Double Sided T-shirt, Texas Rangers Hoodie, Trendy Unisex Sweater, and Reaper Baseball Shirts.
Made with high-quality materials, our Texas Rangers shirts are designed to keep you comfortable and stylish all season long. Whether you're heading to the ballpark or watching the game from home, our double-sided t-shirt is a must-have for any true Rangers fan. With its bold Texas Rangers logo on the front and back, you'll be sure to turn heads wherever you go. And if you're looking for something a bit cozier, our Texas Rangers Hoodie is the perfect choice. Its trendy design and unisex fit make it a versatile option for both men and women.
At Giftyzy, we understand the importance of staying on top of the latest fashion trends. That's why our collection also includes a trendy unisex sweater, perfect for those cooler game days. With its sleek design and comfortable fit, you'll be able to support your favorite team in style. And if you're looking to add a touch of edge to your wardrobe, our Reaper Baseball Shirts are the way to go. Featuring a unique reaper-inspired design, these shirts are perfect for those who want to stand out from the crowd.
So why wait? Visit Giftyzy today and browse our extensive collection of Texas Rangers apparel. With our wide range of options, you're sure to find the perfect shirt, hoodie, sweater, or baseball shirt to show off your Texas Rangers pride. Don't miss out on the opportunity to support your team in style – shop now and join the ranks of the ultimate Texas Rangers fans!
Texas Rangers Shirt Men Women Double Sided T-shirt Texas Rangers Hoodie Trendy Unisex Sweater Reaper Baseball Shirts
Description
Why should you choose our shirts? Here are the reasons:
1. Versatile Selection: We offer a wide range of tops suitable for all ages, including timeless t-shirts, cozy pullover hoodies, comfortable crewneck sweatshirts, and stylish long sleeve shirts. Our collection caters to men (unisex), women, and youth.
2. Premium Materials: Our shirts are meticulously crafted from high-quality fabrics, prioritizing your comfort, flexibility, and breathability. We emphasize the use of superior materials like cotton and polyester to ensure long-lasting durability and a pleasant wearing experience.
3. Captivating Graphics: Our shirts feature two distinct printing techniques. We provide classic graphic tees with captivating designs that showcase your favorite characters, symbols, or artwork. Additionally, we offer all-over printed shirts adorned with vibrant patterns and visuals that cover the entire garment, making a bold and unique fashion statement.
4. Trendy and Distinctive Designs: Stay in step with the latest fashion trends by choosing our shirts. Our diverse range of trendy and distinctive designs allows you to effortlessly express your personal style and stand out from the crowd.
5. Affordable Pricing: We believe in providing excellent value for your investment. Our shirts are competitively priced, ensuring that you can enjoy both quality and affordability without compromise.
6. Convenient Shopping Experience: Our user-friendly website makes shirt shopping a breeze. Effortlessly browse through our collection, select your preferred styles and sizes, and complete your purchase with just a few simple clicks.
7. Customization Options: Add a touch of uniqueness to your shirt with our customization choices. Whether you desire to personalize a design, upload images, or include your name, we offer the flexibility to create a truly one-of-a-kind shirt that reflects your individuality..
8. Exceptional Customer Service: We take great pride in providing outstanding customer care. Our dedicated team is always available to assist you with any inquiries or concerns, ensuring that your experience with us surpasses your expectations.
Important Notes:
Please refer to the size chart before making a purchase, as slight variations in size may occur due to different fabric stretches.
Kindly note that the item color displayed in photos may exhibit slight differences due to lighting effects during photography or variations in monitor display settings.
Texas Rangers Shirt Men Women Double Sided T-shirt Texas Rangers Hoodie Trendy Unisex Sweater Reaper Baseball Shirts
Social Links:
Link Pinterest: Texas Rangers Shirt Men Women Double Sided T-shirt Texas Rangers Hoodie Trendy Unisex Sweater Reaper Baseball Shirts

Link Twitter: Texas Rangers Shirt Men Women Double Sided T-shirt Texas Rangers Hoodie Trendy Unisex Sweater Reaper Baseball Shirts

From: giftyzy.com